Berkshire Kitchen
Kale Pesto
Betsey McCall, Director of Food Access Programs of the North East Community Center, says her Farm and Food Education Interns like to make this tasty, nutritious pesto all summer long. Visit them at the Millerton Farmers Market on Saturday mornings and ask for a sample of whatever they are cooking up – it's sure to be fresh, locally based and delicious.

1 bunch red Russian Kale, stemmed and roughly chopped
2-3 garlic scapes chopped
¼ cup Parmesan cheese
¼ cup walnuts
½ cup olive oil
Salt, pepper, lemon juice to taste

Place all ingredients into a food processor until consistency of pesto.

Add more olive oil as needed.

Serves 4. Best served on top of your favorite pasta, as a sandwich spread, or with scrambled eggs for breakfast.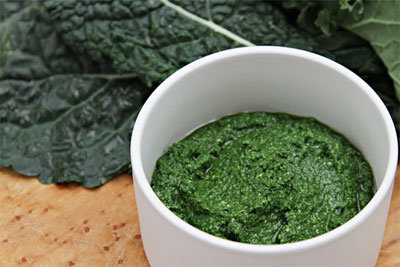 Share This with a Friend
Remember, friends don't let friends live without Berkshire Style!