Berkshire Kitchen
Potato Gnocchi
Gnocchi or Italian dumplings are made in various forms and fashions throughout Italy. I sampled many varieties over my travels and this is the one I prefer. It is potato based but has the somewhat unusual ingredient of cream. Cream and butter are used a great deal in Northern Italy and these gnocchi reflect that. I first made these while working for Paul Bertolli, formerly of Oliveto, in California.
- Brandon Scimeca, Food & Beverage Director, Morgan's at the Interlaken Inn.

To be fully successful one must follow a few key steps in this recipe:

> you should use starchy and dry russet potatoes (a dense potato will lead to a dense gnocchi).

> the drying step is important for the more moisture you remove from the potato, the less flour you need to use.

> do not over mix. Mix the dough until is comes together and can be rolled.

The Recipe

· 4 russet potatoes with skin on
· 2 eggs
· 2 egg yolks
· ½ pod nutmeg grated
· ½ cup cream
· 2 ½ cup AP flour
· 2 heavy pinches of salt and a few grindings of white pepper

Boil russet potatoes, whole with skin on, until tender in salted water. Once tender, drain and place in a baking pan. Place in oven for 10 minutes to dry.

Peel and run the potatoes through a ricer directly on to a cleaned work surface. Spread out potato on the work surface to cool and allow for additional moisture to evaporate. Gather up potato and place in a wide mixing bowl.

In the bowl add all ingredients except flour. Mix well and it will look like mashed potatoes.

Next add all flour, but do not stir. We will now use "bench scrapper" to "chop" in the flour. If you do not have this handy tool, then you can use a spatula. Once mix has come together roll out onto floured surface. Knead just until it comes together.

Roll out into gnocchi you desire shape, but do not overly fuss with this step, just enjoy the process. We tend to divide the dough into manageable pieces and roll them out into round, long tubes. Cut them into ½ inch pieces. Now you can boil in salted water for 4 minutes.

Toss with your favorite sauce or simple butter and parmesan.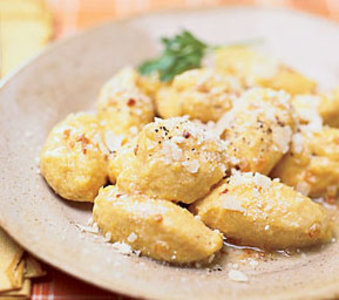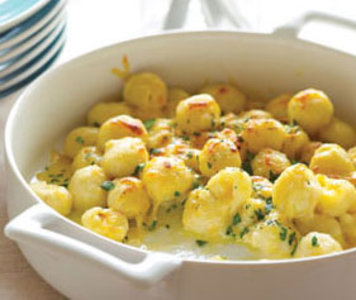 Share This with a Friend
Remember, friends don't let friends live without Berkshire Style!