Berkshire Kitchen
Bacon Jam
by Chef Daire Rooney
A sweet and savory bacon jam from Chef Daire Rooney of Allium Restaurant + Bar. Daire uses the jam as a garnish on deviled farm eggs and as a condiment for her very popular burger which is made with a combination short ribs and brisket meat.

Bacon Jam

1 pound slab bacon, cut into ¼-inch dice
1 onion, small dice
7 cloves garlic, chopped
1/2 cup maple syrup
1/3 cup apple cider vinegar
2 Tbs. brown sugar
2 cups strong brewed coffee
2 Tbs. Sriracha
Black pepper, to taste

In a medium saucepan, render bacon until crisp. Remove bacon and set aside.
Pour off all but 2 Tbs. of bacon fat from pan and add onion and garlic.
Sweat over medium-low heat until translucent.
Add bacon back into pan along with the rest of the ingredients.
Cook over low heat until reduced to syrupy consistency.
Pulse jam in the food processor 3 or 4 times.
Remove and serve.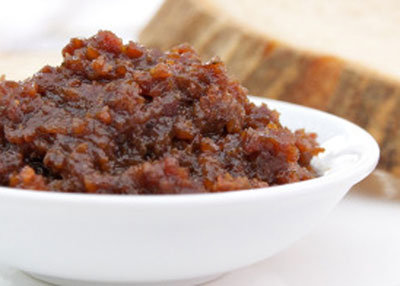 Share This with a Friend
Remember, friends don't let friends live without BerkshireStyle!