Berkshire Kitchen
Beyond the Sandwich
by Jane Worthington-Roth
A lot of my friends have adopted a no-carb diet. They haven't gone full-tilt into a Paleo approach, but they try to avoid unnecessary carbohydrates whenever they can. At our local pub, my husband often tries to lessen his caloric intake by avoiding the French fries and ordering what he calls "the guts of a sausage grinder."

Everyone agrees that the American diet has been full of highly caloric, but low nutritional value, carbs. Consider how many people eat a sandwich for lunch. In 2014, the USDA reported that 50% of Americans eat a sandwich every day. That's HALF of America! It seems that the options on lunch menus always fall into two categories, sandwiches or salads.

Well, at our house we often take a different approach to classic "sandwiches" by tossing out the bread. In my Asian-style recipe below, ground pork is served in lettuce cups. You can easily substitute your favorite protein, e.g., beef, chicken, or beans and use a halved pepper, cucumber or tender cabbage leaves as the wrap. So think beyond the carbs and eat a healthier sandwich.

Pork in Lettuce Cups

1 small onion, finely chopped
Extra virgin olive oil
2 garlic cloves, minced
1 pound ground pork (or your protein of choice)
1 tablespoon honey
1 tablespoon fish sauce
1 teaspoon toasted sesame oil
Zest and juice of 1 lime
2 scallions, thinly sliced
Boston lettuce

In a frying pan, sauté the onion in a little oil until soft, but not browned. Add the minced garlic and ground pork and cook until the meat is browned and cooked through. Stir in the honey, fish sauce, sesame oil and lime juice and zest.

Serve the mixture in individual leaves (cups) of Boston lettuce. Garnish with the sliced scallions. You can also toss on some peanuts or sesame seeds for a little more crunch.

After cooking the pork mixture, put it in a bowl and cover to keep warm. In the same frying pan, sauté some very thinly sliced red onion, snow peas, chopped mango and some finely minced hot pepper. The warm mango brings a new dimension to the snow peas and looks beautiful!

If you want to make a more substantial meal, add a simple side dish.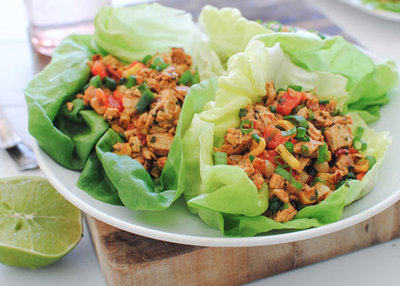 Share This with a Friend
Remember, friends don't let friends live without BerkshireStyle!