Berkshire Kitchen
Easy Summer Desserts
by Jane Worthington-Roth
I'm not one who usually eats dessert. I'd rather gorge myself on the main course rather than feast on sweet caloric treats. Most Americans, however, always "save room" for dessert and generally expect that a dessert will be served when they come to your house for dinner.

So when you prepare a relatively simple meal like grilled steak, it seems like you have to slave in the kitchen even longer to prepare a homemade dessert such as a cake or pie. Compound the time it takes with the heat from your oven and you're not quite a happy camper when the guests arrive. I have a few (somewhat tongue-in-cheek) easy solutions.

The French Approach - Even though the French are known for their phenomenally beautiful and delicious pastries, they often decide to have a cheese course rather than a sweet dessert. Arrange a selection of three different types of cheese on a platter, artistically accented by some small bunches of seedless grapes. Serve with a baguette sliced at an angle for a more sophisticated look.

The Spanish Approach - On a platter, place a very large wedge of Spanish Manchego cheese. This hard cheese is made in the La Mancha region of Spain from sheep's milk. Traditionally served with quince paste (Membrillo) which is fairly easy to find in stores throughout the Berkshires, you can also serve it with sliced pears and a little drizzle of truffle honey.

The British Approach - This has got to be one of the simplest, but traditionally elegant ways to end a dinner. Offer your guests a bowl of fresh walnut halves and a small glass of your best port wine.

The Caribbean Approach - If you believe that you will be shunned in the community or even thrown out of town if you don't actually "make" a dessert, here's one of my favorite summer recipes. I call it a Grilled Piña Colada.

Heat up your grill and make sure the grates are very clean.

On medium heat, grill fresh pineapple slices until grill marks appear, then flip over and grill the other side. The sugar in the pineapple will give a nice caramelized flavor to the pineapple.

While the pineapple is grilling, take a jar of top quality Butterscotch or Caramel Sauce (for ice cream) and carefully heat it in the microwave. When it's hot, carefully pour into a small bowl and whisk in some dark rum (to taste).

To serve, top a pineapple slice with a scoop of Coconut Ice Cream and a drizzle of the butterscotch- rum sauce. If you can't find coconut ice cream, you could substitute Rum Raisin Ice Cream with equally delicious results.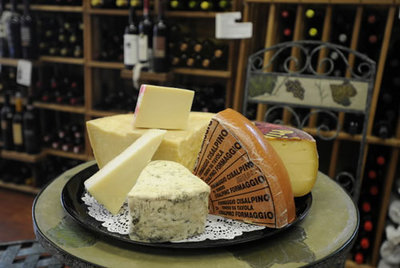 Share This with a Friend
Remember, friends don't let friends live without BerkshireStyle!