Berkshire Kitchen
Mushroom & Sweet Corn Conserva
by Executive Chef Brian Alberg
This recipe comes from Brian Alberg, Executive Chef and Director of Food & Beverage at The Red Lion Inn, Stockbridge, MA, with our thanks.

¼ cup olive oil
3 cloves garlic, sliced
2 shallots, sliced
2 lbs mushrooms, sliced – recommended mushrooms include Shiitake, Oyster and Maitake (also known as Hen-of-the-Woods.) If using Portobello, remove the gills by de-stemming and scooping out
1 sprig of rosemary
3 sprigs of thyme
4 T sherry vinegar
3 ears sweet corn on the cob, blanched and de-kerneled
Kosher salt, to taste

1 1/2 cups olive oil for topping off the jars

Place a large skillet on medium heat.
Add ¼ cup of olive oil to the pan and heat until simmering.
Add garlic and shallots and cook for about 3 minutes until translucent.
Add mushrooms, rosemary and thyme and simmer for 20 minutes.
Deglaze the pan with sherry vinegar and simmer another 10 minutes.
Add in blanched sweet corn, season with salt to taste and remove from heat.
Lay out cooked mushroom mixture on a sheet pan to cool.
After about a half hour (once the mixture has reached room temperature,) place in sealed quart containers.
Top each container with the remaining olive oil so the mixture is completely covered and refrigerate.

(For catered events at the inn, we use pint-sized mason jars to store the Conserva. When serving, we bring the Conserva up to room temperature and serve directly out of the jar at the table.)

The Conserva will last about two weeks in the refrigerator because the mixture is slightly pickled and preserved in olive oil. Recipe makes about 6 ½ cup portions.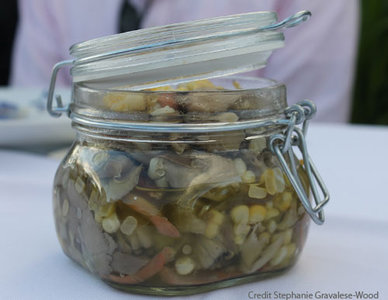 Share This with a Friend
Remember, friends don't let friends live without BerkshireStyle!