Berkshire Kitchen
Raspberry Clafoutis
With Wild Blackcaps
by JANE WORTHINGTON-ROTH
Connecticut hedgerows have an abundance of wild black raspberries, commonly known as "blackcaps." My children used to love eating the blackcaps that grew along the hedgerow at our house on Music Mountain and rarely did they ever save enough to bring inside to share. They would fiercely guard the secret of finding a new patch of the blackcap brambles. The blackcaps form quite an impenetrable thicket and are best harvested wearing long sleeves as their canes are very prickly. Birds and bears also love the tasty berries, so when you find a ripened batch pick them right away or you might find them already eaten the next time you look! The blackcap season only lasts about two weeks, they ripen right between the strawberry and red raspberry picking seasons.

Clafoutis is one of the easiest desserts to make and is a wonderful way to showcase raspberries, both cultivated and wild. This custardy dessert is similar to a "Dutch Baby" and is traditionally made with cherries. I decided to change things up a bit by making Raspberry Clafoutis to enjoy the abundance of "blackcaps" that my mom and my husband foraged from our hedgerow while taking a walk the other morning.

I had some fresh raspberries in the fridge and a package of last year's golden raspberries in the freezer. These, combined with the blackcaps gave us enough to make a very berry Clafoutis. I didn't even bother thawing the frozen raspberries, as they would quickly thaw in the oven. The sweetness of the raspberries in the tart lemony custard Clafoutis was delicious. With all the healthy ingredients of eggs, milk and fruit, I think Clafoutis would make a perfect breakfast as well – any excuse to enjoy another piece!

RASBERRY CLAFOUTIS with WILD BLACKCAPS

3 cups mixed raspberries (red, yellow and blackcap varieties)
½ cup flour
6 tablespoons sugar
¼ teaspoon salt
3 large eggs
Zest from 1 lemon
4 tablespoons butter, divided
6 tablespoons milk
Confectioner's sugar

Lightly butter a cake pan. I like to use the disposable fluted cake pans that come with a lid. The Clafoutis puffs up perfectly in the pan, looks pretty with the fluted edges, stores well in the fridge with the cover on, and gets tossed when you're done.

Preheat the oven to 350 degrees. Using 1 tablespoon of butter, grease the bottom and sides of the pan. Rinse the raspberries and lightly pat dry with a paper towel.

Melt the remaining 3 tablespoons of butter. In a small mixing bowl, whisk together the flour, sugar, salt, eggs, lemon zest, melted butter and milk. If you prefer, use a hand mixer, but blend slowly so you don't create too many bubbles in the mixture.

Pour the batter into the prepared cake pan. Top the batter with raspberries, making sure you spread them out evenly.

Bake for 30 minutes until lightly golden and the custardy batter is set. Before serving, dust with confectioner's sugar. Cut into 6 wedges and serve at room temperature or slightly chilled.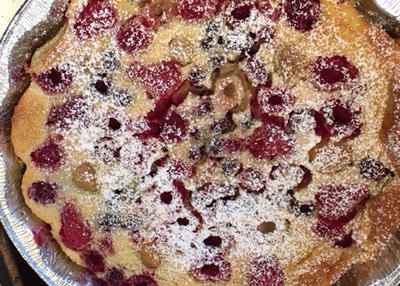 Share This with a Friend
Remember, friends don't let friends live without BerkshireStyle!