Berkshire Kitchen
Savory Slow Cooker Beef Stew
by JANE WORTHINGTON-ROTH
Last week, a bunch of girlfriends and I got together to catch up after the holidays, leaving the "men-folk" at home to fend for themselves. We usually go out to restaurants but thought that it'd be more fun to meet at a house and share a potluck supper in front of a warm fire, chasing the winter blues away.

I brought a big batch of Savory Slow Cooker Beef Stew – my rendition of a Boeuf Bourguignon. In the wintertime one of my favorite kitchen tools is my Cuisinart Multi-cooker. It has four settings with which it can function as a slow cooker, roaster, steamer and also sear meats and vegetables in the same pot. The only other piece of equipment I needed was a large bowl in which to put the items after they were briefly seared. As with many stew recipes, this one is very versatile and you can add any variety of your favorite vegetables – feel free to add other winter vegetables such as parsnips or turnips.

The sliced sweet onion almost melts away into the sauce, while the pearl onions and other vegetables hold their shape in the stew. With the long, slow cooking the beef chuck will become meltingly tender.

If you want to make it without the wine, double the amount of beef stock and add a tablespoon or two of A-1 steak sauce and red wine vinegar to enrichen the flavor. Serve it with some bread to soak up the delicious flavors.

If you don't have a slow cooker, you can roast the stew in a Dutch oven. In a slow cooker the recipe will be ready in about 4 hours and in a Dutch oven the recipe takes about 2 hours to cook. My recipe below is enough to feed an army of friends (8-12 people), but you can adjust the recipe for the amount you need. Any extras can be frozen.


SAVORY SLOW COOKER BEEF STEW

5-6 pounds (3 packages) of beef chuck, cut into 1 inch pieces
Salt and pepper
¾ cup flour, more as needed
3+ tablespoons butter
3+ tablespoons canola oil
½ large sweet onion, sliced
1 pound bag of "baby" carrots, sliced in half lengthwise
3 ribs celery
1 pound sliced white mushrooms
1 bottle Burgundy wine, or another full-bodied red wine
28 ounce can crushed tomatoes
1 pound bag of frozen pearl onions
1 pound baby of "baby" Yukon potatoes, sliced in half
2 cups beef stock
2 tablespoons herbes de Provence
2 sprigs of fresh rosemary

In a gallon-size plastic bag or large bowl, place 1/3 of the beef pieces, season with a good amount of salt and pepper then toss with a third of the flour until all the pieces are coated. Set aside and continue coating the rest of the beef pieces.

Melt the butter and canola oil in your Cuisinart multi-cooker (or Dutch oven) and sear the beef until it is browned on all sides, adding more butter and oil as needed. As each batch is seared, set aside in a large bowl.

Adding more butter and oil as needed, sauté the sweet onion, carrots, and celery until the vegetables are soft and begin to brown. Add the mushrooms and continue searing until they are soft. Pour the wine over the vegetables and deglaze the pan, making sure to stir up the delicious bits of "fond" that have caramelized on the bottom.

Add the beef back to the pot, along with the crushed tomatoes, pearl onions and potatoes. Stir in the herbes de Provence. Add enough of the beef stock to just cover the mixture. Tuck the sprigs of rosemary on top of the stew.

In the slow cooker, bring the mixture to a boil then set the cooker on low heat for four hours.

If you are using a Dutch oven, preheat your oven to 350 degrees. Bring the mixture to a boil on the stovetop, cover, then place in the oven to cook for 2 hours. Remove the stems of rosemary before serving.

Another delicious variation on this recipe would be to omit adding the potatoes to the stew and serve it over buttered noodles or garlicky mashed potatoes.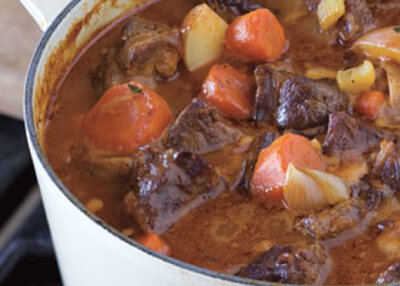 Share This with a Friend
Remember, friends don't let friends live without BerkshireStyle!