Berkshire Kitchen
Scallion Pancakes
by Jane Worthington- Roth
A delicious but often overlooked treat at Chinese restaurants is the scallion pancake. This savory flatbread is made with only four ingredients: flour, water, scallions and oil. It couldn't be easier!

What makes the Chinese scallion pancake different from other pancakes is that after spreading on the filling, you roll it first into a log, then into a coil which is flattened and fried. One tip to keep the scallions from poking through the dough is to make sure you finely mince them. Any dipping sauce will do - even plain soy sauce - but I enjoy a spicier sauce with the added kick of black vinegar and hot chili oil. If you want some exercise, stir the dough and knead it by hand but I'm a lazy cook so I pull out my KitchenAid mixer to do the heavy work.

As we celebrate Chinese New Year on Friday, February 16th and begin the Year of the Dog, make this easy side dish to enjoy with meat, fish, or as a delicious vegetarian meal. This recipe makes 4 individual servings.

SCALLION PANCAKES
2 cups flour
3/4 cup hot tap water
1 cup finely minced scallions (about 6)
Vegetable oil
Toasted sesame oil (optional)

DRIPPING SAUCE
2 Tbsp. Chinkiang black vinegar (available on Amazon)
2 Tbsp. low sodium soy sauce
1/2 tsp. Chili oil (or Sriracha)
1 tsp. Sesame seeds

Mix all dipping sauce ingredients and set aside. Add a little toasted sesame oil if you'd like.

Place the flour in a large mixing bowl, drizzle in the hot water and mix on low speed until the dough begins to come together. Scrape down the sides of the bowl then use a dough hook to knead the dough until smooth, about 5 minutes.

Remove the bowl from the mixer, cover with a damp cloth and let the dough rest in a warm spot for 30 minutes.

Divide the dough into four pieces. As you work with each piece, keep the rest covered with a damp cloth. On a floured surface, roll each piece into a thin 10 inch circle. No need to worry about a perfect circle here - just roll the dough evenly thin.

If you are a big fan of toasted sesame oil (as I am), brush a little on the dough. Sprinkle 1/4 cup of the scallions on the dough, then roll the dough into a long rope.

Wind the rope into a coil, slightly wetting the end to seal the coil. Dust with a little more flour, then flatten the coil with your hand. Using a rolling pin, roll the coiled pancake into a 7-inch disk. Repeat the process with the rest of the dough to make four large pancakes. When you roll out the pancakes, the coil design may disappear, but the scallions will be evenly dispersed throughout.

Heat a little vegetable oil in a 10-inch cast iron pan over medium heat and fry one pancake for about two minutes until lightly browned. Press down in the center in case the pancake puffs a bit and doesn't evenly brown. Flip the pancake over and brown the other side. Drain on a paper towel, covered with foil to keep warm. Add more oil, if necessary, and continue frying each individual pancake.

Cut the pancakes into wedges and serve with dipping sauce.

If you don't plan on eating all of the pancakes at once, you can store the extra dough portions in the fridge, tightly sealed in plastic wrap for a couple of days. Save the extra minced scallions in a small ziplock bag.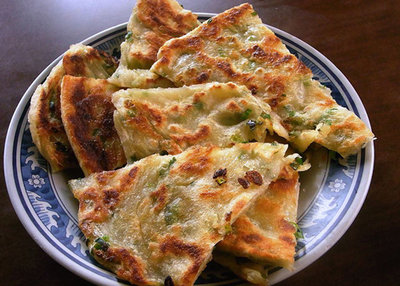 Share This with a Friend
Remember, friends don't let friends live without BerkshireStyle!