Trade Secrets 2016
Spring has made a reluctant appearance this year, hiding its glory behind cool, cloudy skies. It is no surprise that avid gardeners are feeling pent up as they wait to get their fingers—and their plants—into the earth. They will be able to assuage their impatience this Sunday with visits to four splendid gardens as part of the Trade Secrets Garden Tour.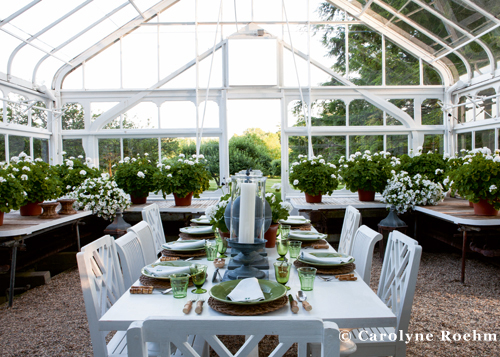 Gardens crafted by Carolyne Roehm, Michael Trapp, Old Farm Nursery and the signature garden of Trade Secrets founder Bunny Williams will all be on view
The gardens will vary in focus from Roehm's neo-classical reconstruction of her home, wrapped as it is with formal parterre gardens, to a stroll around Williams and John Rosselli's primrose and wildflower-dense woodland pond in Falls Village home.
At Old Farm Nursery, owned by Judy and Patrick Murphy, the visitor will find extensive plantings, including a large kitchen and herb garden, perennial borders, a fruit tree allée, and a formal white garden, while at Trapp's property, tour-goers encounter an air of Italiante formality, with tall columnar evergreens marshaled in straight lines around the house. The doors of his living room and bedroom open onto a stone terrace, with 17th century columns supporting a grape arbor, and a picturesque view of hayfields beyond.
A day earlier, Trade Secrets holds its annual rare plant and garden antiques sale at Lion Rock Farm, Route 41 and Hosier Road in Sharon, featuring five dozen specialty nurseries and antiques dealers.
Trade Secrets is a fund-raiser for Women's Support Services, which offers services and financial help to victims of domestic violence.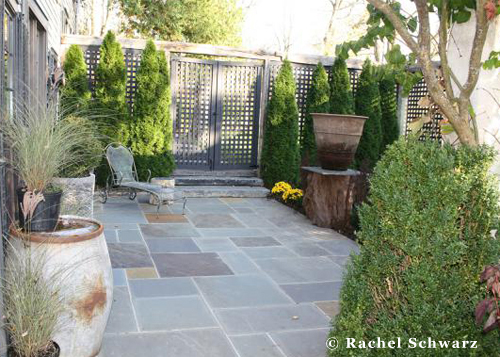 Admission to the May 14 sale, 10AM-3PM, is $40 ($125 for early buying from 8 to 10 a.m.), and $70 for the May 15 garden tour, 10AM-4PM. Tickets, are available at Lion Rock Farm. Maps of the tour can be picked up at the farm.
For details, call 860-364-1080 or click on the link below.