Berkshire Kitchen
When the Weather's Hot
Cool Off with Watermelon!
by Jane Worthington-Roth
Nothing conjures up images of summer like a slice of fresh watermelon - the beautiful hue takes us back to lazy childhood days and family picnics where we would challenge our cousins to see who could spit the seeds the furthest. Afterwards, a quick jump in the lake washed off all the sticky sweetness.

I love watermelon – it's by far my favorite fruit. I'm the type of person who picks out most of the watermelon from fruit bowls at buffets, adding just a couple pieces of cantaloupe for color. Today, over 4 billion pounds of watermelon are produced annually in the US, 85% of which are purchased fresh.

As adults, we look less fondly on slobbering the juicy fruit and look for a more "sophisticated" way of enjoying the thirst-quenching fruit. The perfect solution is to make some Granita.

Stay tuned for more watermelon recipes later in the month.

Watermelon Granita

Granita works well for all seasonal fruits, especially when you have an abundance of over-ripe fruit you don't want to toss away. This Sicilian dessert is quick and easy to make.

In a blender, combine 6 cups of cubed watermelon, the juice and zest of two limes, and 1/3 cup sugar. Watermelon's 91% water content means you don't have to add any extra water to make the granita. Blend until it forms a well-mixed slushy consistency.

Pour the mixture into a 9x13 glass dish. Freeze for 2 hours, then gently "scrape" the top of the slush wish a fork, making coarse ice chips. Refreeze. In another hour, scrape more of the slush. Keep repeating the freezing and scraping until all of the granita has been roughed-up. Keep the mixture in the freezer until ready to serve.

This bright granita looks especially pretty when served in an old-fashioned sorbet glass or wine glass. Garnish the granita with a sprig of mint or basil leaf.

If you'd like to add a bit more zing to your watermelon granita, before blending add a 1-inch knob of fresh ginger, peeled and grated, or ¼ cup of chopped mint or basil. The delicious variations are endless.

BerkshireStyle friends make sure they enjoy ALL the benefits of summer produce!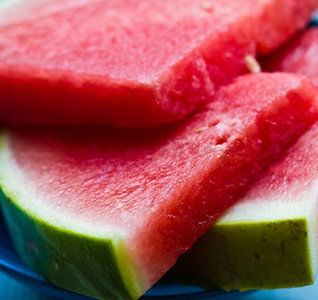 Share This with a Friend
Remember, friends don't let friends live without BerkshireStyle!