Berkshire Kitchen
When the Weather's Hot
Cool Off with Watermelon!
by Jane Worthington-Roth
As promised, more fabulous thoughts on how to use local watermelon on these warm July days.

Nothing conjures up images of summer like a slice of fresh watermelon - the beautiful hue takes us back to lazy childhood days and family picnics where we would challenge our cousins to see who could spit the seeds the furthest. Afterwards, a quick jump in the lake washed off all the sticky sweetness.

I love watermelon – it's by far my favorite fruit. I'm the type of person who picks out most the watermelon from fruit bowls at buffets, adding just a couple pieces of cantaloupe for color. Today, over 4 billion pounds of watermelon are produced annually in the US, 85% of which are purchased fresh.

As adults, we look less fondly on slobbering the juicy fruits, and look for a more "sophisticated" way of enjoying the thirst-quenching fruit. The perfect solution is to make a delicious summer Salad or an Agua Fresca.


Watermelon Salad

This ubiquitous summer fruit also lends itself to a delicious and refreshing salad. The flavors mimic a Greek Salad, where the watermelon takes the place of the tomatoes. Interestingly enough, tomatoes and watermelon are both extremely high in Lycopene and vitamin C.

Into a bowl, add:

3 cups, cubed, seeded watermelon
½ small red onion, thinly sliced
1 cup diced, seedless cucumber
½ cup pitted kalamata olives
½ cup crumbled feta cheese
2 tablespoons chopped fresh mint

Toss gently to combine. Drizzle with 2 tablespoons of extra virgin olive oil and the juice of 1 lime. Gently stir to combine the flavors.


Watermelon Libation

Watermelons often get a bad rap as being too effeminate. Some men even refuse to grab a melon-baller and help scoop out the perfect orbs. But along with Lycopene, watermelons are also high in Citrulline, especially in the rind. Yes, despite what your moms told you, watermelon rinds ARE edible and quite delicious – just cut off the hard outer skin. The Citrulline stimulates nitric oxides, which is said to relax and expand blood vessels, similarly to how "Viagra" works. If you don't trust a mere "Foodie" for this info, just look up watermelon rind on WebMD.

So, how can we enjoy the rind? In the past, folks have often pickled the rind, but it's even easier to enjoy in a summer drink like Agua Fresca. The fresh delicate taste of the rind adds another dimension to the drink.

Take a slice of watermelon and remove the hard skin. Toss the entire piece of watermelon, light green rind and all, into a blender. Add a teaspoon of sugar and a jigger of rum, gin or vodka. Give it a whoosh and enjoy! You can also strain the drink before serving if you like it less thick.

BerkshireStyle friends make sure they enjoy ALL the benefits of summer produce!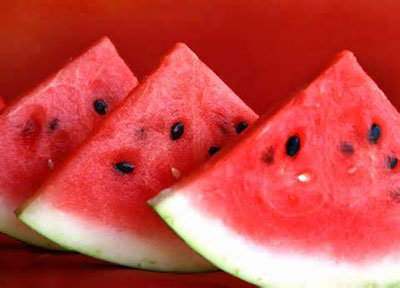 Share This with a Friend
Remember, friends don't let friends live without BerkshireStyle!