The Budget-Wise Gardener
by KATHRYN BOUGHTON
A balky spring season is intensifying the urge to get out in the garden and sink fingers into the warming earth. But while the soil is still too cold for tender roots, gardeners can dream—and plan.

Cary Institute of Ecosystems will help the process along this Saturday with a special program, Digging Deeper: The Budget-Wise Gardener, featuring renowned garden educator, author and design consultant Kerry Ann Mendez.

Mendez, who makes her home in southern Maine, has just released her fourth book, The Budget-Wise Gardener, in which she guides consumers in the best ways to save money while achieving the gardens of their dreams. A popular lecturer, who combines humor with hard facts, she tailors her talks to the regions in which she is presenting.

Her talk Saturday will take place at 11AM in the auditorium of the Carey Institute of Ecosystem Studies, 2801 Sharon Turnpike/Route 44, Millbrook NY. Registration is $30 for members of the Garden Conservancy, Innisfree Garden or the Cary Institute and $35 for non-members. For more information, call the Garden Conservancy Open Days toll-free number weekdays, 9AM to 5PM: 888-842-2442 or email: opendays@gardenconservancy.org
Mendez has addressed several areas of interest in her books, ranging from
The Right-Size Flower Garden
to
The Ultimate Flower Gardener's Top Ten Lists.
From Chapter 1 in her latest book, she begins to dish on how to find the best deals on great plants. She instructs the reader in the "art of the deal" and then breaks it down by different classes of plants—perennials, annuals, biennials, grasses, bulbs, shrubs and more.
Chapters touch on such pertinent topics as plant sources, design secrets that save money and time and sustainable gardens. She advocates Xeric landscaping and meadows in which native and drought-resistant plants are used to eliminate the need for supplemental water from irrigation.
Xeric is a Greek word that means "dry." By choosing the correct plants and planting natives, the thrifty gardener will find that most native plants adapted to a given environment can withstand drought and less than perfect soils.
"I try to bring in sustainable practices," Mendez said in an earlier interview. "We need to embrace building gardens with more native plants."
Explaining that most people don't want 'high-fuss' gardens, she said plants should be tough enough to survive without regular watering and be able to resist pests without requiring chemical treatments. Chemical treatment of plants requires time and money and carries with it potential damage to the environment.
She said she likes to work with plants that are not "water hogs" and that are low-maintenance. For instance, she said she has "walked away" from big-leaf hydrangeas because they demand so much water and are inconsistent bloomers in colder zones. Instead, she advocates panicle hydrangeas
(Hydrangea paniculata),
which are consistent bloomers and require less water.
Landscape-worthy plants have to serve many purposes, she said, remaining attractive for a long time, with a long bloom time or attractive foliage, fruits or seeds. Perennials and plants that re-seed themselves can stretch the gardening dollar.
Also covered are design concepts for stunning, pollinator-friendly landscapes requiring less maintenance and water. And container gardening takes on a whole new spin with her cost-effective, creative ideas in the chapter
Regal Containers on A Dollar Store Budget
. She offers tips on sources for low priced containers, suggestions for fillers that work below the soil and a surprising suggestion about using perennials instead of annuals. She even includes ways to save money by over-wintering plants and describes how to do it.
The most obvious and economical source of new plants can be 'giveaways' that friends seek to bestow on you but Mendez offers a word of warning. 'Easy' plants, ones that take over, are usually given away because the original owner has too many of them. Soon you too will have to many.
She is not sentimental about getting rid of problem plants. "Plants are not pets or children," she advises.
Mendez has been a featured speaker at botanical gardens, arboretums and horticultural societies in 17 states including the U.S. Botanic Gardens, U.S. National Arboretum, Chicago Botanic Gardens, Frederik Meijer Gardens and Sculpture Park and Longwood Gardens. She has been a presenter and keynote speaker at Master Gardener conferences in 17 states plus dozens of flower shows including Philadelphia, Chicago, Boston, and the Northwest Flower and Garden Show.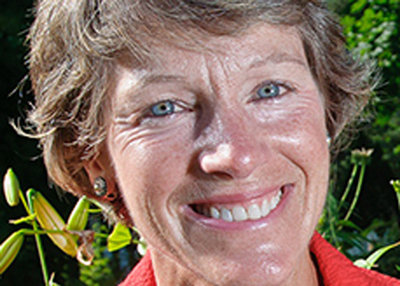 Share This with a Friend
Remember, friends don't let friends live without BerkshireStyle!