Advertise
Click here for rates and specifications or contact sales@berkshirestyle.com
What Sets Us Apart
The answer is simple. We are your ONLY ONLINE RESOURCE GUIDE, curated to help you navigate the various towns and events in the tri-state area of New York, Connecticut and Massachusetts. We concentrate on the exceptional. We feature some of the most accomplished people in their field. We have a distinct point of view, to recognize the best and authentic of the area. BerkshireStyle is both a source of information and a catalyst for inspiration while visiting the Berkshires.
Why Advertise With Us
With our clearly defined target audience, we appeal to people who are interested in the Berkshires and its foothills, including Connecticut, New York and Massachusetts This audience falls into two major categories: residents interested in the amenities and activities of the area and visitors interested in both seasonal and cultural events. We cover 30 towns and attracted over 35,000 unique visitors who read more than 110,000 pages last year. Our e-blasts are sent to 4500 subscribers each week.

BerkshireStyle is the ideal place to advertise. With an emphasis on style, our online resource guide and magazine provides a remarkable experience in terms of quality content and presentation. BerkshireStyle.com offers a targeted audience, competitive rates and high visibility in search engines for both residents and visitors.

Our research shows that the upscale Berkshire market is an underserved sector on the web. Increasingly people are getting their information from the Internet and mobile devices. Not only is it important in helping people find you, it is important in sending the right message. We have taken exceptional care in our choice and presentation to reflect businesses of taste and sophistication.

We establish a distinct web presence for our clients, creating an opportunity to expand their markets. Our high ranking and targeting marking strategy has the ability to drive traffic to your website by highlighting your business and offering a direct link to your website. Our site is mobile friendly to provide immediate access to our resource guide.
View / Download The BerkshireStyle Electronic Sales Kit
Discover Our Area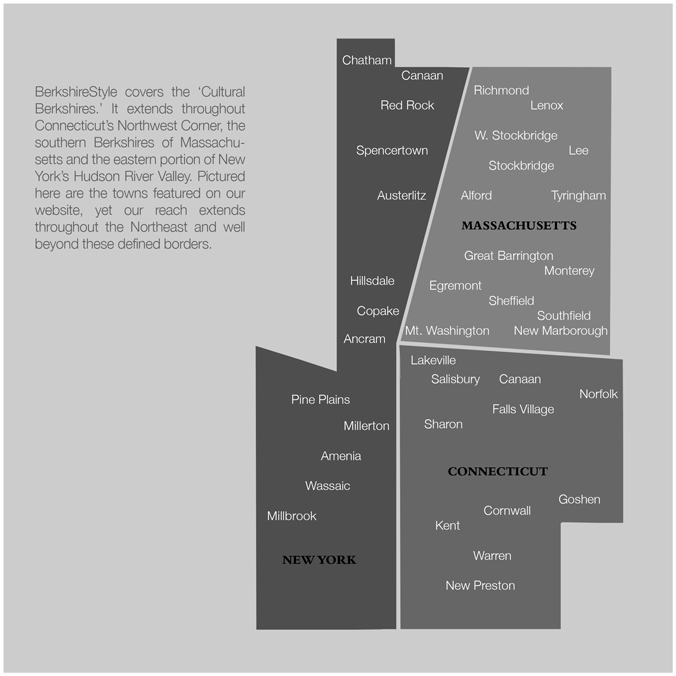 Towns And Villages

Our Content
| | |
| --- | --- |
| Towns and Villages | A listing of curated businesses and attractions. |
| Events Calendar | A guide to selected events happening in the Berkshires. |
| Country Real Estate | A new and elegant home featured each week. |
| Berkshire Kitchen | Regional gourmet recipes weekly. |
| Features | Weekly articles about local businesses and designers. |
| Movie Clock | A quick click to connect to local movie houses. |
| Dining | Curated listing of the finest dining in the region. |
| Garden Style | Landscape designers, garden centers and florists. |
| Performing Arts | Dance, music, theatres and entertainment venues. |
| Fine Arts | Art Galleries and art museums. |
| Home Style | Home furnishings, furniture, china and accessories. |
| Home Design | Architects and Designers |
| Food & Entertaining | Specialty food markets, bakeries, catering and spirits. |
| Museums & Historic Homes | A comprehensive listing. |
| Antiques | A listing of the premier shops in the region. |
| Attractions | Must see museums and events in the region. |
| Bookshelves | Libraries and Booksellers both current and rare. |
| Children | Go-to activities, stores and a link to the sports page. |
| Entertainment | A comprehensive listing of local theaters and concert halls. |
| Lifestyle | For fitness, spas, yoga and wellness. |
| Lodging | Bed and breakfasts, hotels and resorts. |
| Personal Style | Clothing, gifts, jewelry and accessories. |
| Outdoor Adventures | Hiking, fishing, golf, riding and outdoor sports. |
| Berkshire Pets | A Listing of area pet related businesses. |
| Summer Arts | Seasonal listing of all the arts the area has to offer. |
| Winter Sports | Seasonal Listing of regional winter sports. |
Sample Advertisements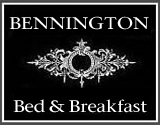 Small Ad
(160x125 pixels)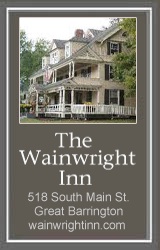 Medium Ad
(160x250 pixels)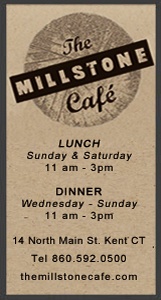 Large Ad
(160x300 pixels)


Banner Ad (1140x435 pixels)


Footer Ad (1000x185 pixels)
Berkshirestyle Ad Rates
BERKSHIRESTYLE offers the following selection of advertisements and sponsorships. All images are measured in pixels and include a hyperlink. Prices are per month.
Sidebar Ads
Three sizes and are placed in right column on page:
Home Page Small
160x125
$200
Home Page Medium
160x250
$250
Home Page Large
160x300
$300
Specialty Pages Small
160x125
$150
Specialty Pages Medium
160x250
$200
Specialty Pages Large
160x300
$250
 
Banner Ads
Internal Pages
1140x435
$350
 
Landing Pages
1140x435
$400
 
 
 
 
 
Footer Ads
Offered at the bottom of each page between columns.
1000x185
$250
Special Edition
To run for 6 weeks with full media exposure
Small
160x125
$300
Medium
160x250
$350
Large
160x300
$400
Advertorial
Mention home page, 350-700 words, photograph.
$500
Lead Magnet
Sponsored Content. Mention on home and relevant pages. Evergreen.
$1000
E-Blast
Will link to a page with your Advertorial
$400
Sponsored Feature
$700
Discounts offered for multi ad placements.

BERKSHIRESTYLE accepts payment by check, PayPal or credit card. Checks are to be made out to BERKSHIRESTYLE and mailed to PO Box 1262, Canaan CT 06018. Payment is to be received prior to ad posting.

BERKSHIRESTYLE wishes to maintain continuity and style in our advertisements. All ads are subject to our approval. We ask that you submit your artwork. We retain artistic control and the right to refuse any advertisement. Should you wish us to design an ad for you, we will do so for a nominal charge.

For further information, please contact sales@BerkshireStyle.com
View / Download The BerkshireStyle Electronic Sales Kit
---
BERKSHIRESTYLE SHARE BUTTONS FOR YOUR WEBSITE