Fly Fishing on the Housatonic
From sun up through early evening during the warm weather months on the rambling Housatonic River in Massachusetts and northwest Connecticut fishermen can be seen wetting a fly in search of a feisty brown trout or muscular smallmouth bass.
The "Housy," as it is affectionately known by many anglers, is one of the premier fisheries in the eastern United States, and flows out of the Berkshire Hills in Massachusetts. Trout Management Areas and fly-fishing only areas conspire to fill the river with many holdovers, and hooking an 18-inch trout, or larger, is not uncommon. The river is strictly catch and release.
The northern reaches of the Housatonic in Massachusetts are comprised of the East and Southeast branches, and the waters from Richmond Pond near Pittsfield down offer some great early-season fishing. You can access the river in this stretch near bridges and other areas along Route 20. The East Branch near Hinsdale is actually a small and swampy stream that makes access and fly-fishing somewhat difficult, but rewarding because the trout are not under heavy pressure. The WMA near Hinsdale does provide access to the river.
Some of the best spots in Connecticut are on a beautiful stretch near the covered bridge in Cornwall to Housatonic Meadows State Park in Cornwall Bridge. Indeed, a 10.4-mile WMA in Connecticut is considered one of the best places to fly fish in all of New England. The river, which is well stocked, is strictly catch and release.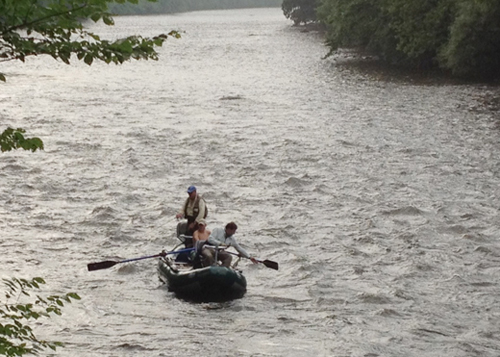 "There are a lot of aspects of the Housatonic that make it a great fishing river," says Rob Nicholas, a veteran guide and expert fisherman, who lives in Cornwall CT where be operates Housatonic Anglers. "Especially the stretch that runs from Falls Village to Kent. The diversity of the river is incredible and not just from a fishing perspective. There are deep pools, long shallow riffles, pocket water, big meadows and rocky bluffs that one will see while on the river."
Water temperature is the most critical factor in terms of trying to determine whether trout will be active or not. As a general rule, the trout on the Housatonic will be most active when the temps are between 55 and 70 degrees. Once the river hits 70 degrees or more look for the bass fishing to improve.
Because the river runs through and over limestone deposits it is very rich in nutrients, thus there is a lot of "life" in the Housy, says Nicholas. Mayflies, stoneflies, caddis, grayfish, baitfish, suckers, dace make "yummy" food for the fish. Early May hatches fishermen watch closely to match their flies to include the Hendrickson, blue quill and red quill, while the green caddis, tan caddis, green drake, gray fox, brown drake, March brown and suphur are insect hatches that usually appear in mid- to late-May.
"The insect activity and populations are huge on the river, and combine this with consistent hatches, creates a trout fishery to rival many in the western states," says Harold McMillan, owner of Housatonic River Outfitters. "Several Connecticut sections of the river remind me of fishing in Montana or Idaho with its mountainous landscape and wide expanses. We have guided fishermen from as far away as South Africa and Russia and book well over 500 guide trips per year for individuals who wish to spend a day fishing the Housatonic River. In addition to the superb fishing, on most guide trips you will see bald eagles, osprey, black bear, minks and otters and even the occasional moose that has wandered down from Vermont or New Hampshire."
When it comes to trout, your best bets are browns and rainbows that are stocked by state agencies. But there are also some wild trout swimming around, and an occasional brook trout can be hooked near one of the tributaries that feed into the Housy, where the natives live during the summer months. Once the trout start rising in earnest in May the action stays hot into October. The best time for smallmouth bass in from mid-June to October, says Nicholas.
In addition to Nicholas's services, there are other outfitters and fly and tackle shops near or along the river, including Berkshire Outfitters in Adams MA, Berkshire River Drifters in North Adams MA, J. Stockard Fly Fishing in Kent CT, Housatonic Meadows Fly Shop in Cornwall Bridge CT and Housatonic Outfitters in Cornwall Bridge CT.