Berkshire Kitchen
Fuzzy Wuzzy Was a Quince
by Jane Worthington-Roth
My friend, Kay, who runs the Litchfield Famers Market, is the only person I know who has a quince tree. This year was a very bountiful year and so she gave me about 40 of them to enjoy. The smell of quince is phenomenal. It's redolent of apples and pears, and the perfumed scent lingers for a long time. Transport a bag of them home in your car and you will enjoy the fragrance for several days!

Quinces are very odd looking fruits. They are light yellow, somewhat pear-shapedm and often covered with a light fuzzy coating. My husband absolutely loves the sweet astringent flavor of quince,so I am determined to try out as many recipes as I possibly can. My first two were a delicious success, and I'm happy to share them with you here.

In Spain, Manchego Cheese is traditionally served with Membrillo, a quince paste. It takes a few steps, but Membrillo is very easy to make and stores well in the refrigerator. This recipe will make enough to eat with a lot to share. It is amazing to see the transformation as the light yellow quince flesh turns a deep ruby red as it cooks. It's absolutely magical.

Membrillo (Quince Paste)

3 pounds of quince
About 3 cups of granulated sugar
Zest and juice of 1 lemon
1 (1.75 ounce) box of pectin

1. Carefully scrub the quince – removing all of the fuzzy coating.

2. Cut each quince (peel, core and all) into 1 inch cubes. Put into a large saucepan with 4 ½ cups of water. Cook on a gentle simmer for about 30 minutes, until the quince are soft.

3. Drain the quince, and RESERVE the quince-water. Press the quince flesh through a food mill to extract the pulp but leave the peels and seeds behind. Add the quince pulp to the quince-water and return to the saucepan. You will have about 3 cups of purée.

4. The amount of sugar that you use should be equal to the amount of purée that you have. If you have 3 cups of purée, add 3 cups of granulated sugar to the pan. Stir in the zest and juice of one lemon and the box of pectin. Combine well.

5. Cook on a very low simmer for one hour, stirring often with a wooden spoon. The quince paste with thicken and turn a deep red color. Be extremely careful not to scorch or burn the quince. It will get very sticky – you will have to carefully scrape the sides and bottom of the pan when you stir. The Membrillo is very hot and very sticky – be careful not to splash yourself while stirring.

6. Preheat the oven to 175 degrees. Spread the quince purée into a non-stick-foil-lined 8" by 12" baking dish. The quince paste will be about ½ inch thick – perfect for Membrillo. Bake for one hour to let the quince paste dry out and firm up.

7. Remove the quince – in the foil – from the pan and let it air-dry for another two hours. Cut the Membrillo into 2" by 3" pieces. (Save the scraps for the next recipe!) I place let
each individual piece of Membrillo on a piece of non-stick plastic wrap, flipping it over as I move it from the foil to the plastic. Let these individual pieces air-dry for another few hours on the counter.

In olden days, Spanish cooks would let the Membrillo air dry in their cupboards for several days. Store the wrapped Membrillo in the refrigerator. Serve with slices of Manchego cheese.

Quince Glaze

Undoubtedly, you'll have some scraps of quince paste left after you cut your Membrillo into neat 2" by 3" pieces. Don't toss them out! These delicious scraps are perfect for making into a glaze.

1. Roast a 3 pound chicken for one-hour then removed from the oven. The chicken was fully-cooked at this point. Keep the oven warm.

2. Put 2 tablespoons of Membrillo scraps into a small microwave-safe dish, add 1 teaspoon of water.

3. Microwave for about 10-seconds – just until the Membrillo melts. Stir to combine well. Paint the chicken with the glaze and return to the oven for 5 minutes.

The Membrillo adds a nice tart finish and beautiful color to the chicken. It almost tastes as thought it's been coated in cranberry sauce – a perfect combo!

You can use the quince glaze for other recipes as well. It tastes delicious as a glaze for pork, venison, salmon or for roasted vegetables. The possibilities are endless! Just be sure to put the glaze on after the dish is already cooked, so you are just reheating and melting the quince glaze on at the end. If you put the glaze too early it could easily burn.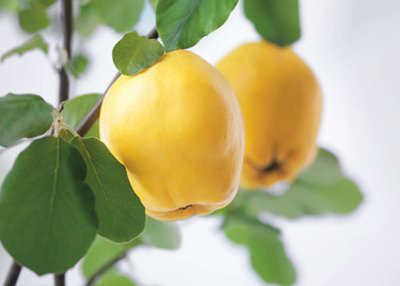 Share This with a Friend
Remember, friends don't let friends live without BerkshireStyle!