A Glimpse Inside...
A Hidden Treasure in Washington
Hidden Valley Inn lives up to its name–it is completely concealed from the main road. A small sign attached to a mailbox points the way up a mile-long driveway. Be prepared: when you finally reach the top, the building and the setting will take your breath away.
The house looks as if it was built eons ago and had been transported from France or Italy. In fact, the house was built in 1983 and is the product of Regine Laverge's vision of where she wanted to live.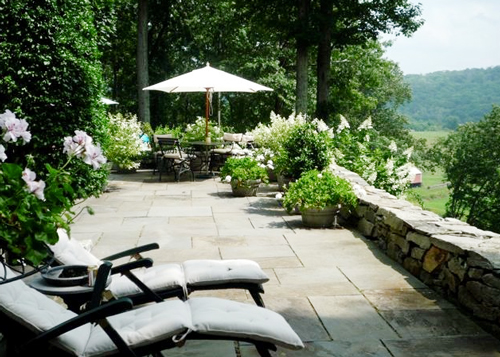 "I grew up in the country in Holland," Laverge explained. "beautiful, expansive vistas and wonderful times until my parents divorced when I was fourteen. My mother, my three brothers and I went to live with my grandmother until I was eighteen."
At twenty-one, Laverge married a young banker in Holland who got a job in New York at Brown Brothers Harriman & Co., the oldest and largest private bank in the United States and she began a new life.
Laverge had visions of discovering the city and absorbing all the incredible things it had to offer. But her husband insisted that she find a job and so she found several–from assisting the writer Marc Connelly to working for a socialite concert pianist who practiced all day and sent Laverge on dozens of errands. Although she was offered a job doing special events for Brown Brothers Harriman, she was not allowed to take it because it paid more than her husband was making.
Her life in Connecticut began when her husband accepted a job at United Technologies in Hartford. They found a house in Washington and enrolled the children at Rumsey.
"I would drop the children off and then take the dogs for a walk along the river path. I could see barn on the other side but there was no way to cross over," Laverge said. "One day I was out horseback riding with a neighbor and we crossed the fields that I had only seen from the other side. It was so breathtakingly beautiful that I went to the town hall to find out who owned the property."
It turned out that the owner of the sixty-two acres was Harry Newcomb, who had grown up in the valley and now lived in California. Laverge wrote to him and said if he was ever interested in selling the land to please let her know. Several days later he called and announced that he was about to list the property.
"My husband thought I was certifiably nuts," Laverge said with a laugh, "and refused to partake in this insane idea of building a house. At the same time, my grandmother had died and suddenly there was a bit of money for me." And so Laverge's dream became a reality.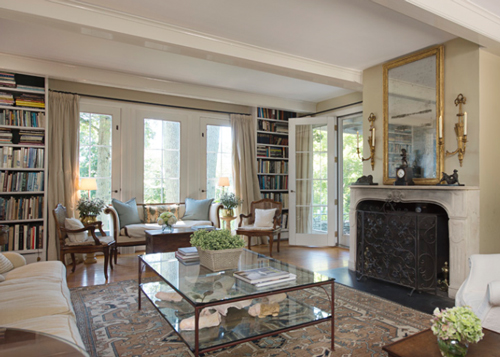 Laverge describes the twelve-room house as Dutch Colonial. Sophisticated and intimate, the manor overlooks the nature preserve for which it is named. The side facing the valley is surrounded by a flagstone terrace replete with table and chairs for outdoor dining. The end of the terrace leads to additional seating and a heated pool.
The three bedrooms that are rented out have their own bathrooms and are referred to as the red, blue and green rooms. Guests are afforded use of the entire house but not cooking facilities.
"People love it," she said. "and many of them return year after year. It is a bit more expensive than the average B&B but much less than the Mayflower Grace or Winvian. It's very peaceful because it is impossible to hear any traffic."
Now, after having created her dream house and enjoyed the beautiful vistas for so long, Laverge has decided it is time to move on.
"I've been in the area for 40 years and in this house for 30 of them; I am feeling a bit 'sawdusty.' I'd like to travel again, see more of the world and visit old friends. This is very much a one-woman show and it can be exhausting."
But fear not, Laverge intends to stay in this area and will undoubtedly create another magical abode–this time just for herself.
Hidden Valley Bed & Breakfast in Washington, was rated as the "Best B&B of New England on a Hill" by Yankee Magazine's 2012 Travel Guide to New England. It was also awarded five stars by Tripadvisor.com.