Berkshire Kitchen
Milk Chocolate Cake
With Chocolate-Caramel Frosting
by Allison Clayton
I love this cake because it has a unique texture. There are so many words I could use, but these are the ones I choose: Light. Dense. Spongy. Airy. Rich. Brownie-like. Am I aware none of these terms line up well? Most certainly. Still, they all make sense. The majority of the chocolate used in this recipe is straight-up milk chocolate, with a much more limited amount of cocoa, which adds to the richness. The addition of buttermilk gives this cake some extra spring in its step.

I did take this recipe from Epicurious and adapted it slightly, as I was lazy and opted for milk chocolate chips over milk chocolate bars I could shave. My cake was sans chocolate shavings for the topping. I do not exactly agree with Epicurious referring to this as a "one-bowl" recipe. I definitely used three bowls in total, plus a saucepan. Then again, I'm Type A and had to sift my flour and other dry ingredients together prior to adding it to the chocolate, unlike in the original recipe in which Epicurious indicates to sift the dry ingredients straight into the chocolate mix. I'm just not that rebellious. #sorrynotsorry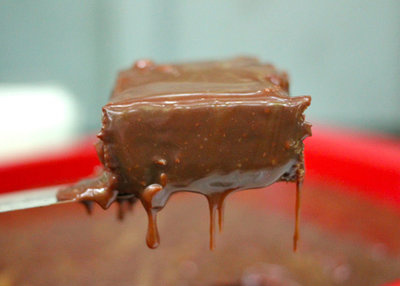 Milk Chocolate Cake with Chocolate-Caramel Frosting
Adapted from Epicurious' recipe for One-Bowl Milk Chocolate Cake with Chocolate-Caramel Frosting
. Makes 15 pieces.
Cake
– 1 cup (2 sticks) unsalted butter
– 1/2 cup cocoa
– 6 ounces high-quality milk chocolate, chopped, or 6 ounces high-quality milk chocolate chips
– 3 large eggs
– 2 teaspoons vanilla extract
– 1 & 1/2 cups sugar
– 1 cup buttermilk
– 2 &1/2 cups all-purpose flour
– 1 & 1/2 teaspoons baking powder
– 1/2 teaspoon baking soda
– 1/2 teaspoon salt
Frosting
– 9 ounces high-quality milk chocolate, chopped, or 9 ounces high-quality milk chocolate chips
– 1 teaspoon vanilla extract
– 1/4 teaspoon salt
– 3/4 cup heavy cream
– 1/2 cup store-bought caramel sauce
Before We Get Started…
– If you do not feel like buying buttermilk, combine 1 cup whole milk with 1 tablespoon lemon juice or 1 tablespoon white vinegar. Stir mixture and allow to sit for 10 – 15 minutes or until small curds are visible.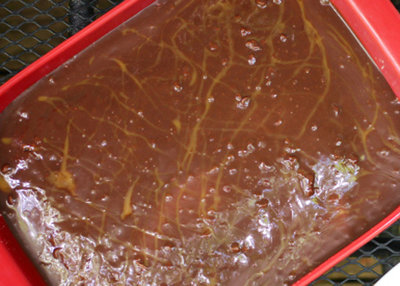 Directions
- Preheat oven to 350°F. Lightly grease and flour a 13×9″,  tapping out any excess. Set aside.
- Melt butter in a small saucepan over medium heat. Add chocolate and cocoa; whisk until smooth. Remove from heat and cool for five minutes.
- Whisk eggs and vanilla in a large bowl. Whisk sugar into egg mixture until combined. Stream in buttermilk while whisking, then stream in chocolate mixture while whisking until smooth.
- In a late bowl, sift flour, baking powder, baking soda, and salt. Slowly add dry mixture into chocolate mixture, whisking until batter is throughly combined.
- ) Pour batter into prepared pan. Bake for 35 – 40 minutes or until a toothpick inserted in the center comes out clean. rmove pan and place on to a wire rack; allow cake to cool completely.
- For the frosting, add 9 ounces milk chocolate to a large bowl; add salt and vanilla and set aside. In a small saucepan, cook heavy cream over medium heat until barely simmering; bubbles should just start breaking the surface. Pour cream over chocolate and allow to sit for 3 minutes. Whisk until smooth. Add caramel and whisk until combined. Place frosting in refrigerator for 1 hour.
- Remove frosting from refrigerator and stir. Spread frosting on in an even layer; if desired, drizzle with additional caramel sauce.
- Slice and serve!
Editor's note: We are reposting this review and photos - with some modifications - and many thanks to Allison. Please visit her blog with the link below.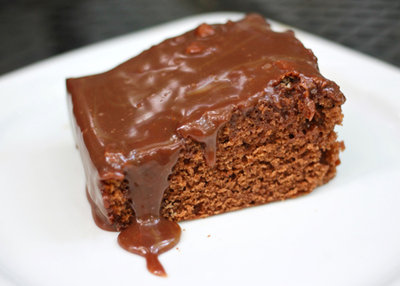 Share This with a Friend
Remember, friends don't let friends live without BerkshireStyle!