Plain Goods
by Kathryn Boughton
In a world of constant, mindless, consumption, Michael DePerno and Andrew Fry, owners of Plain Goods in New Preston, listen to the whisperings of a different muse.

They believe in "subtle, well-defined goods, with a specific aesthetic"—items designed to last for years and to become integral to the collections of their discerning owners.

"We have a distinct point of view based on years of being involved in this type of business, both from an interior design and fashion perspective" said DePerno. "We are drawn to things that are incredibly well made, be it clothing, accessories, housewares or furniture."

The store's palette leans heavily toward natural tones and the textiles are classic, handwoven fabrics drawn from countries as distant as Peru and Scandinavia. Leather goods come from Florence and the south of France and there are well-worn rugs, jewelry, collectibles and even beauty and baby products.

"Our mission is to find that perfect item that becomes a staple of your collection and that you can add to over years with things that are connected," DePerno said.

The "plain goods" in the store eschew trendiness, but exude an aura of quality. "I cherish the patina of things," said DePerno. "It's all about honoring simplicity, of not being on point, on trend."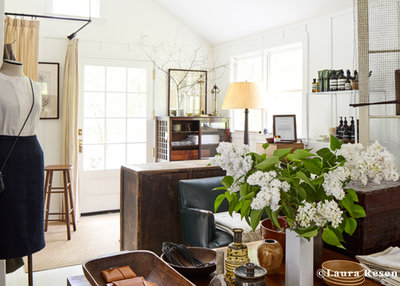 As an example he points to Mackintosh raincoats. The coats were first developed in the 1820s by Charles Mackintosh and are still a fashion standard nearly 200 years later. "It's a really exquisite fabric," said DePerno. "You are buying something that is really well made, honoring that craftsmanship and the integrity behind it."
DePerno seems to have been born with his appreciation of quality.
"My parents tell me I was always this way," he said. "It is intrinsic to my being. I've always loved clothing, fabric and textiles. I traveled a lot as a youngster in Europe and that was pivotal—I grew and learned a lot by being exposed to architecture, antiquities, flea markets and art."
His sensibilities continued to develop when he became a stylist for ABC Carpet and Home. "I was responsible for all the windows, and also the instore vignettes and for styling photoshoots," he reported.
This experience was followed by his first store, Hope and Wilder, which sold antique and vintage items. "It all came to fruition in areas that recognized design," he said.
He closed Hope and Wilder in 1998 and relocated to the West Coast where he opened another business with a focus on vintage and antique furnishings, custom furniture, and comprehensive design services.
Happily, his partner, Andrew Fry brings complementary skills in the field of fashion. "Andrew's career involved working in marketing and communications for some of the top fashion lines in the country," DePerno said. Fry has worked at Ralph Lauren, Burberry and Tom Ford and has been involved in pop-up shop locations with St. Regis Hotels in New York City and Aspen; and W Hotel in Miami.
Their sense of taste meshes. "For me, style, fashion, home and lifestyle are all interconnected. Our home is an expression of how we dress, live and entertain—there is no difference," DePerno said. "It's about those choices that, in a sense, define your sensibilities toward all things creative."
In 2015, the pair started looking for a location for a new store. Finally, they found the little white cottage at 1 New Preston Hill Road, just around the corner from East Shore Road, and transformed it as a perfect backdrop for their merchandise.
"We've been doing incredibly well," said DePerno. "It is a wonderful place to be. This little village has made itself a destination and there are so many people who come here and love it. Each shop has its own flavor."
He said the number of shops has now expanded to create a "critical mass" that attracts even more shoppers.
"This feels like our little flagship store," said DePerno, who added that he and his partner are considering future expansion.
Beyond its retail operation, Plain Goods offers home design services. For more information about Plain Goods contact info@plain-goods.com; for design work, visit www.michaeldeperno.com.
Share This with a Friend
Remember, friends don't let friends live without BerkshireStyle!