Berkshire Kitchen
Pomodoro Sauce
Made at Home
by JANE WORTHINGTON-ROTH
For many years, I would buy various brands of spaghetti sauce. Pasta and sauce was a very economical way of feeding a large family. Although I had my preferred brands, there weren't any that I thought were especially delicious. Many had a high salt or sugar content and they didn't have the fresh from the garden flavor you enjoy when eating pasta in Italy.


One day I wanted to make a quick meal of spaghetti and sauce, but realized that I didn't have any jars of sauce in my pantry. I did, however, have a large can of whole peeled Marzano tomatoes. I made a batch of homemade Pomodoro sauce that was so delicious I've never bought a pre-made jar of spaghetti sauce since!


There are many brands and varieties of canned tomatoes, but I find that the cans of peeled whole Marzano tomatoes have the freshest taste.


Pomodoro, which means "tomato" in Italian, is closely related to Marinara sauce. Marinara sauce is cooked quickly resulting in a thin, bright red sauce with big chunks of tomatoes. Pomorodo sauce is cooked slowly with finely crushed tomatoes and sets up thick and smooth with a deep red color. Keep a few cans of whole peeled tomatoes and some pasta in your pantry and you'll always be able to whip up a delicious meal in no time!


POMODORO SAUCE

Extra virgin olive oil
1 medium onion, diced
2 cloves garlic, minced
28 ounce can of whole peeled Marzano tomatoes
3 tablespoons tomato paste
A "splash" (1/4 cup) dry white wine
1 tablespoon Worcestershire sauce or A-1 steak sauce
1 teaspoon crushed red pepper (optional)
1/4 cup each chopped fresh parsley and basil or 2 teaspoons dried herbes de Provence


Heat a little olive oil in a large frying pan until shimmering. Sauté the onion until translucent but not browned. Add the garlic and continue cooking on low until the garlic softens.


Add the can of tomatoes, crushing each with your hands as you add them to the pan. Let the tomatoes simmer for about five minutes on low, then stir in the tomato paste, Worcestershire (or A-1) and white wine. Every so often, stir the sauce with a wooden spoon to crush the tomatoes even more.


If you're using dried herbes de Provence, add them now. If you're using fresh herbs, add them after the sauce simmers for 10 minutes.


As the sauce simmers some of the juices will steam off, thickening the sauce and concentrating the flavors. The sauce should be done after about 15 to 20 minutes total cooking time. Taste the sauce and add a little salt and pepper, or another splash of wine, if needed.


While the Pomodoro sauce is simmering, cook the pasta in another pot until al dente. Drain the pasta then add it to the pan with the sauce, tossing to coat all the pasta.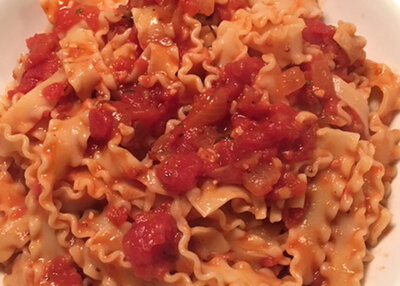 Share This with a Friend
Remember, friends don't let friends live without BerkshireStyle!