Pumpkin Ricotta Gnocchi
I was home in Connecticut recently and feeling inspired to whip up a few recipes. Perhaps it was the country air, the light glow of the sun lighting up the colorful foliage, the smell of pine needles on the ground - I wanted to play around with autumnal flavors.
I've made this pumpkin gnocchi in the past, and it was just as delicious as I remembered.
This is a great recipe to make when you have a nice leisurely stretch of time and want to make something wholly warming and filling. There is nothing like a toothsome piece of good gnocchi!
INGREDIENTS
– 1 cup whole-milk ricotta
– 1 cup pumpkin purée
– 2 large egg yolks
– 2 teaspoons salt
– 1 tablespoon packed dark brown sugar
– 1/4 teaspoon ground nutmeg
– 1/4 teaspoon ground sage
– 1 & 1/2 cups all-purpose flour
BEFORE WE GET STARTED
The original Chowhound recipe (linked below) has a lovely Crème Fraîche–Sage Sauce. However, if you are looking for something lovely to finish this gnocchi, two fresh sage leaves, finely chopped, combined with two tablespoons of melted butter makes a simple and flavorful sauce!
DIRECTIONS
1.) On a large baking sheet, place parchment paper and flour lightly. Set aside.
1.) Combine ricotta, pumpkin, egg yolks, measured salt, brown sugar, nutmeg, and ground sage; stir until smooth. Slowly add the flour – roughly 1/2 cup at a time, and mix until the dough is combined; it should be a bit sticky and soft.
2.) Place flour on a work surface. Taking a rough handful of dough, carefully roll it on the floured surface into an even rope, roughly 3/4″ in diameter. Cut the rope into 3/4″ pieces. Place the gnocchi on the prepared baking sheet. Repeat with remaining dough until all gnocchi has been made.
4.) Bring a large pot of lightly salted water to a boil. Line a second baking sheet with parchment paper (do not flour!) and set aside. Carefully add gnocchi to the boiling water in batches – you can do this in 3 to 4 batches – and cook until they float and cook for 3 – 4 minutes; gnocchi will be floating on the surface of the water when finished. Remove with a slotted spoon, gently shaking off any excess water, and transfer to the second prepared baking sheet. Repeat until all gnocchi is cooked.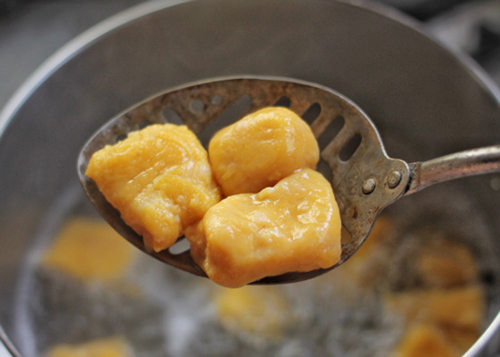 5.) Serve immediately with preferred sauces or toppings, or allow gnocchi to cool and solidify before placing in an airtight container to freeze. Frozen gnocchi can be cooked again at a later time by adding to boiling water and cooking for approximately 3 minutes.
Makes…a lot of gnocchi. Serves 2 – 4, depending on how much you want to share!