Salisbury Grove
Lake Wononscopomuc, now a recreational oasis for Salisbury residents, began life in the 18th century as an industrial site. Today it is hard to imagine the grime, noise and bustling activity of the region when it was a center for iron manufacture.
By the mid-19th century, Holley Grove had become a favorite location for picnics, boating and swimming and by the late 1940s, according to the Lake Wononscopomuc Association, the area began to take on its modern form, with a concessionaire who sold small foodstuffs, bait, tackle and other sundries.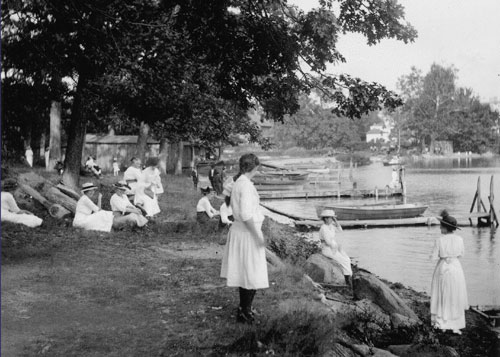 In 1947 the town was given part of the Factory Pond property and in 1951 the town purchased the Grove after three years of negotiations with the Holley Family. The Belcher family contributed much of the money for the purchase stipulating that the grove should remain a park, be open to the public and that town children never have to pay to come there.
This undated picture from the early decades of the 20th century depicts a group of matrons and girls, much more formally clad than today's swimmers, enjoying the lake's breezes. It is drawn from the Salisbury Association's archives linked below.