Berkshire Kitchen
Scallops Poached in Coconut Milk
by Jane Worthington-Roth
There are two types of scallops available in the seafood departments of most Berkshire markets, the smaller Bay Scallops and the larger Sea Scallops. Scallops are found in all the world's oceans, but never in freshwater. One amazing feature of these creatures is their ability to "swim" away from predators such as starfish by clapping their shells together (a feat I have never seen but would love to witness!).
 
I love all types of seafood and like to splurge on the pricier varieties - such as the sea scallops - whenever I find them on sale.  In less than a half-an-hour you can bring these delicately flavored scallops to the table with my recipe for Scallops Poached in Coconut Milk. As with other seafood such as shrimp or salmon, you want to make sure you don't overcook the scallops or they might become rubbery.  A simple poaching is all they need.  I like to serve this dish with jasmine rice and oven-roasted butternut squash.*
 
SCALLOPS POACHED IN COCONUT MILK
 
Ingredients

2 pounds of large sea scallops (I generally buy about 10 scallops per person)
2 14-ounce cans of coconut milk (shaken well before opening)
1 tablespoon freshly grated ginger
Pinch of crushed red pepper flakes
Zest of one lime
3 tablespoons fresh lime juice
2 tablespoons of fresh basil, thinly sliced (chiffonade)
 
Directions

Combine the coconut milk, ginger, crushed red pepper, lime zest, and lime juice in a medium-sized skillet. Bring to a light boil, then reduce heat to a simmer.
 
Add the scallops in a single layer and poach, turning the scallops over after 4 minutes.  The scallops should take about 8 minutes total to fully cook, turning opaque when they are done.  Remove the scallops from the pan with a slotted spoon and cover with foil to keep warm.
 
Reduce the coconut-milk-mixture over medium heat until thickened. If you'd like to speed up the process, stir in 1 teaspoon of cornstarch dissolved in 2 teaspoons of cold water. As the cornstarch heats, it will thicken the sauce. Stir in the fresh basil. Return the scallops to the pan to coat with the sauce and reheat.
 
*To make the oven-roasted butternut squash. Peel and seed the squash, then cut the squash into half-inch cubes.  Place on a cookie sheet and toss with a little olive oil, salt and pepper.  Roast at 400 degrees for about 25 minutes.  It's best to begin roasting the squash and cooking the jasmine rice before you start poaching the scallops, so everything will be done at the same time.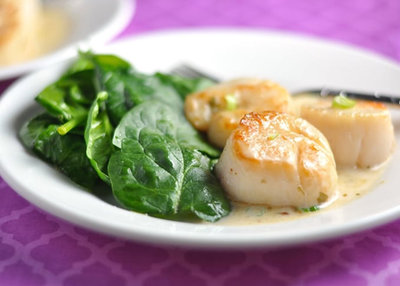 Share This with a Friend
Remember, friends don't let friends live without BerkshireStyle!