Berkshire Kitchen
Seared Scallops
with Green Tomato Risotto
by Jane Worthington-Roth
The weather in August is very fickle, straddling the hot and sultry dog days of summer and cooler sweater-weather evenings. It's also the month when heirloom tomatoes are at their peak. Although heirloom tomato's beautiful colors span the spectrum, my favorite is the tart and tangy green zebra tomato. This variety remains a vivid green when it is totally ripe and sets the stage for a pretty risotto to serve on cooler summer evenings.

Although the risotto would be delicious as a side with any meat, I think the delicate flavor works particularly well with a mild fish such as flounder. If you want something a bit fancier, serve it topped with seared sea scallops.

In order to get a nice brown sear on your scallops, be sure to buy "dry pack" not "wet pack" scallops. Dry pack scallops are packaged without any additives; wet pack scallops have been treated with chemicals to extend their shelf-life and will not form a perfectly brown crust. Because I want all the delicate flavors to shine, I don't add spices to the scallops but simply sear them in ghee (clarified butter).

SEARED SCALLOPS WITH GREEN TOMATO RISOTTO

1 1/2 tablespoons olive oil
1 cup chopped Vidalia onion
3 scallions, thinly sliced
1 cup Arborio (risotto) rice
½ cup dry white wine
½ cup chicken broth, warmed
3 cups hot water
2 cups chopped green zebra tomatoes (cored)
½ cup shredded Italian cheese blend (I like Sargento brand)
4 large basil leaves, cut into chiffonade (thinly sliced)
1 pound dry pack sea scallops
2 tablespoons clarified butter (ghee)

In a medium saucepan heat the olive oil until shimmering. Add the chopped onion and cook over low heat until the onion is translucent. Add the scallions and continue sautéing until the scallions are slightly wilted.

Add the rice and cook, stirring constantly, until the rice is coated with oil and becomes partially translucent, about 2 minutes.

Pour in the white wine and simmer until the wine is absorbed. Continuously stir the risotto rice while it is cooking to make sure that none of it sticks to the pan.

Add the chicken stock and continue cooking until the stock is also absorbed. Add the hot water, a cup at a time, allowing each addition to be absorbed before adding the next. The rice should take about 20-25 minutes to cook and have a tender, creamy consistency. If the rice begins to get dry before it is fully cooked, add more water or wine in half-cup increments.

Remove the pan from the heat and stir in the chopped tomatoes, cheese and basil. Cover the pan to keep it warm while you are searing the scallops. Sometimes I add a little more cheese to make the risotto extra creamy and another splash of wine just before serving to brighten the flavor.

Heat a cast iron pan on medium heat. Add the clarified butter and swirl to evenly coat the pan. Place the scallops in the pan in a single layer and cook until lightly browned, about 2 minutes per side.

Serve the risotto in a shallow bowl, topped with the seared scallops.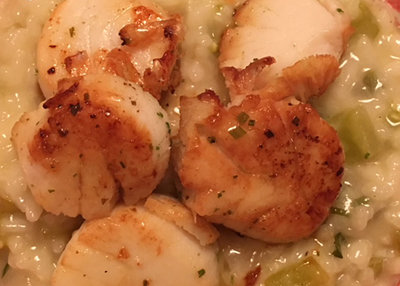 Share This with a Friend
Remember, friends don't let friends live without BerkshireStyle!