Berkshire Kitchen
Serious Coffee Talk
by Rachel Louchen
Our region takes coffee seriously and that's because we're lucky to have tons of independently owned cafes and markets from which to choose. Our residents eschew the lines of traditional drive-through mass produced coffee for small-batch roasters who serve food made from local farms. So, how do you choose from this embarrassment of caffeine-riches? We've rounded up just a few of our favorites; whether you're looking for breakfast, to bring your laptop or just need the perfect cup of coffee to start your day

BERKSHIRE COUNTY

Patisserie (located in both Lenox and Great Barrington) is an authentic French bakery. This is the place to go when you want something sweet with your coffee. They have a huge selection of macaroons, éclairs, tarts and cake that go perfectly with a cup of coffee or latte.

Six Depot Roastery in West Stockbridge is famous (in fact Martha Stewart-recognized) for it's unique blends and an incredible cup of coffee. This is a fantastic spot to introduce a novice to the world of coffee for they have a huge selection of roasts and a super friendly staff to help you pick your new favorite.

Not only does Rubi's brew a great cup of coffee, it's a perfect people-watching spot, located behind Rubiner's Cheesemongers and Grocers on Main Street in Gt Barrington. This time of year is ideal to sit outside on their patio and enjoy the crisp weather and an egg bowl.

Lenox Coffee serves delicious Barrington Coffee Roasting Company coffee so it is all great; the coffee, espresso and lattes are rich and flavorful. It's also a good work spot with small tables and fast (free) WI-FI. It has the good fortune of being located smack-dab in beautiful Lenox, so grab a cup to-go and head out for a stroll.

DUCHESS COUNTY

Irving Farm is the hub of Millerton; for many of the regulars, it's a daily trip. This place really has it all: child-friendly, suitable for large-groups, a quick lunch spot and good for camping out with your computer to work. They serve artisan coffee and have tons of sandwiches and breakfast favorites.

Babette's Kitchen in Millbrook has an adorable brick storefront that really set the tone of the charming cafe inside. In addition to coffee and locally-sourced breakfast and lunch items, the market has cheeses, honey, hummus and lots of other treats. Stop by for a cup of coffee and some house-made granola.

LITCHFIELD COUNTY

While in Canaan we're recommending Blackberry River Baking Company for coffee, that's really just an excuse for breakfast. The food is amazing, made-from-scratch and pretty much irresistible once you get inside and smell what's cooking. They have a large pastry selection to grab and go, but also omelets, breakfast sandwiches, pancakes and the works.

Kent Coffee is the only coffee shop on our list that also offers house-made chocolates. Pop by mid-day for a quick caffeine and sweets pick-me-up, because if anything goes better with coffee than a donut, it's a truffle.

COLUMBIA COUNTY

Crossroads Food Shop in Hillsdale must be included on our list because of ambiance: the dining room is bright, relaxed and fantastically designed. Sit family-style at their large, wooden dining table to work on your computer or have breakfast at one of the smaller tables bathed in sunlight by the wall of windows and enjoy your morning cup of joe.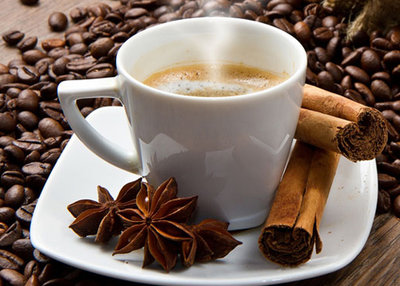 Share This with a Friend
Remember, friends don't let friends live without BerkshireStyle!