Sparkling Apple Ginger Mocktails
Tis the season for hosting holiday gatherings. The kitchen enthusiast in me loves it. The introvert in me that is wickedly Type A loathes it. Ha!
In a season full of cocktails, many folks abstain from alcohol for a myriad of reasons. Ain't nothing wrong with some flavorful effervescent mocktails!
Apple cider mixed with champagne sure makes a killer cocktail – a nice Apple Cider Mimosa, if you will – but a top-notch ginger ale makes a wonderful substitute, in this case adding a lightly spicy kick to an already tangy cider.
These two drinks combine effortlessly make something festive that captures the late autumn/early winter holiday feeling in the air. The cider makes you think of the crisp chill and the ginger and cinnamon-sugar add a nice warmth of flavor. Honestly, you'll spend more time dipping the rims of your glasses in the cinnamon-sugar than mixing the cider and ginger ale together!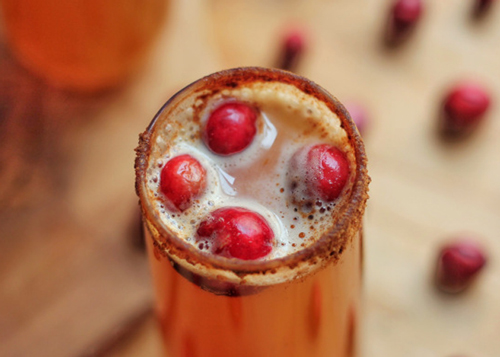 INGREDIENTS
– 2 tablespoons white sugar (optional)
– 2 teaspoons ground cinnamon (optional)
– 1 cup apple cider
– 1 liter ginger ale (I used Q Ginger Ale)
– Whole rinsed cranberries, for garnish (optional)
Before We Get Started…
– The addition of cinnamon-sugar to the rims is optional, but it's oh-so pretty!
DIRECTIONS:
1.) If decorating rims: In a small shallow bowl or on a small plate, combine sugar and cinnamon. Wet the rims of the champagne flutes, then dip in cinnamon sugar mixture.
2.) Fill champagne flutes 1/4 full with apple cider, then top off with ginger ale.
3.) Garnish with cranberries, if desired. Serves 4. Serve immediately!