Berkshire Kitchen
Tomato Pie
You Say "Tomato" – I Say "Tom-AHHH-to" Pie!
by Jane Worthington-Roth
In your arsenal of recipes, perhaps you have a few that are so easy to make you are embarrassed when company raves about the meal. This Tomato Pie recipe is one of my easiest and favorites. Farmers Markets will be bursting with ripe tomatoes soon – and so it's a great time to enjoy them in all their glory. You can use Roma, Plum or the meaty Beefsteak tomatoes – but it's most important to buy them absolutely fresh and vine-ripened, not the Styrofoam tasting store-bought variety. In a pinch, you can substitute a large can of whole peeled tomatoes. Believe it or not, the canned tomatoes have gotten so good that they easily replicate the vine-ripened taste in this particular recipe. What's vitally important, however, is to use fresh, not dried, basil and fresh scallions. Aside from that, the recipe is very adaptable. You might want to keep the ingredients on hand in your pantry and refrigerator in case unexpected company stops by for a quick taste of summer!

For this recipe you can use either a 28 ounce can of whole peeled tomatoes, or you can use 1½ cups of peeled and seeded fresh tomatoes.

Ingredients

2 refrigerated pie crusts, such as Pillsbury Pie Crusts
1 tablespoon mayonnaise
28 oz. can of whole peeled tomatoes
1 teaspoon dried Herbes de Provence, or Italian blend herbs
20 large fresh basil leaves, thinly sliced chiffonade-style
3 scallions, green sections sliced into ¼ inch pieces
6 ounces of shredded cheese, such as Italian blend or Mexican blend
Milk - or beaten egg - for the top crust

Directions

1. Preheat the oven to 400 degrees.

2. Place the tomatoes into a colander to let them drain well. Wet tomatoes could result in a mushy pie. The tomatoes should be cut into bite-sized pieces.

3. Place one pie crust into a greased pie dish. Spread the mayonnaise onto the bottom of the pie shell – this will help to keep the tomatoes from making the dough soggy.

4. Put the drained tomatoes into the dish, spreading them evenly. Sprinkle the Herbes de Provence over the tomatoes.

5. Cover the tomatoes with the basil leaves, then the scallions.

6. Top with the shredded cheese blend. Any type of shredded cheese would taste delicious in this recipe, so feel free to use whatever you have on hand, or make your own blend of your favorite cheeses.

7. Wet the inside edges of the crust with a little water then place the other crust on top, crimping the edges with your fingers. If there seems to be a lot of extra crust extending on the top, snip it down with a knife or scissors before crimping.

8. Paint the top crust with a little milk or beaten egg to give the cooked pie a nice browned top.

9. Carefully wrap foil around the edge to prevent the edges from burning. Prick the top of the pie a couple of times with a fork.

10. Bake at 400 degrees for 45 minutes, then remove the foil and bake an additional 5 to 10 minutes until lightly browned.

This pie tastes equally delicious hot-out-of-the-oven or served at room temperature. This versatility allows you to bake it early in the morning when the weather outside is a bit cooler. It's the perfect light summer meal to serve with a simple salad and glass of chilled white wine, and ideal for taking on a picnic to Tanglewood!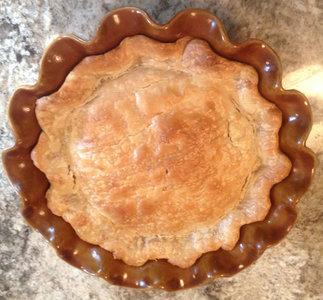 Share This with a Friend
Remember, friends don't let friends live without BerkshireStyle!