Brian Ross
ABC News Chief Investigative Correspondent
Award-winning investigative journalist Brian Ross attributes his amazing career to having been fired from his first job out of college.
"I was working at the radio station in Waterloo, Iowa, and did a controversial story that angered the management. So they fired me. If not for that, I might still be in Iowa."
Iowa's loss was Miami's gain. When Ross went there in 1974 both political parties were holding their nominating conventions. He went on to work at NBC radio in Cleveland and was then flown out to be hired by NBC in New York as the youngest correspondent ever. In 1994 Roone Arledge of ABC recruited Ross for the news division. He reports for World News Tonight with David Muir, Nightline, Good Morning, America and 20/20.
Ross has covered just about everything in his stellar career and in 2008 he began covering the Bernie Madoff scandal. Most people had not heard of Madoff, Ross included.
"I was at Elaine's one night and one of my friends had gotten a call from the FBI. They had just arrested this guy for a 50 billion dollar scam. I said that can't be right, he must mean 50 million. But it was true. That launched me in the land of Bernie Madoff."
It was a world full of drama and intrigue. Madoff had been a big deal on Wall Street, yet so few knew of him and no one could believe he had pulled off such a scam.
One of Ross's biggest breaks came when he met Madoff's secretary Eleanor Squillari.
"She felt so betrayed by him," Ross explained. "And she was very angry. Investors were calling and she had no answers for them. She had believed in him and had even given Bernie her own money to invest. After I talked with her, she moved into our offices at ABC, brought all her files and documents and became a great source."
Ross spoke with dozens of people, including the former police detective who was hired to guard Madoff during his home arrest. With all of this information Ross was able to present an in-depth profile of the man who cheated hundreds of people. The piece was so impressive that it took on a life of its own.
"Originally I was asked to write additional copy to go online," Ross explained. "I wound up writing what was really a chapter. Everyone loved it and suddenly I was writing a whole book."
The Madoff Chronicles: Inside the World of Bernie and Ruth made the New York Times bestseller list and is now the basis for the upcoming mini-series Madoff which will air on ABC on Wednesday February 3rd and Thursday February 4th from 8-10PM. Starring as the Madoffs are Richard Dreyfuss and Blythe Danner. The movie is produced by Lincoln Square Productions, in association with ABC Entertainment. Following the second installment, there will be a documentary, Madoff:After the Fall.
While Ross did not write the script, his book was the basis for the movie and he did meet with the actors and shared some of his thoughts.
"I'm thrilled to see it come to the screen," Ross said. "It was a great project and so different from what I've done in my years as a newscaster. Coincidentally Richard Dreyfuss grew up in the same neighborhood in Queens as Madoff. When you see the dramatization it is obvious what a complicated man he was."
While Ross does find time to relax at his weekend home in Sharon, he is always looking for new challenges.
"I love figuring out what the story is and how to tell it for television. I have a pretty broad canvas of what I can cover -- wherever there's a great story, that's where I want to go."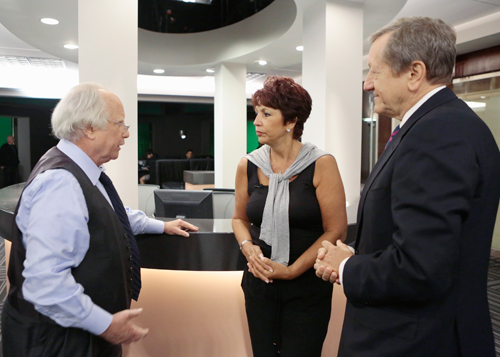 © ABC/Giovanni Rufino
(left to right) Richard Dreyfuss, Eleanor Squillari, Brian Ross